| | |
| --- | --- |
| About Al-Anbar Governorate | |
| Geographic location and borders | Area | Topographic | Climate | Agriculture |
| Natural Resources | Administrative division | Cities and population | Major Cities | Major projects |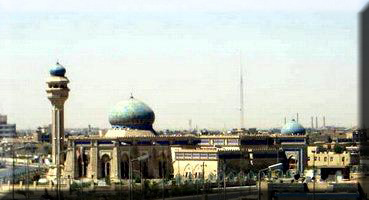 Anbar is an Arabic word that means store. Manathira called it (Anbar) because it was the repository for military equipment or because it was the repository for wheat, barley and hay. It was one of the most important cities during Sassanian occupation of Iraq, as it was an important military center for the protection of the capital Madain from the Roman attacks.
Abbasid Period
In the Abbasid period, Caliphate Abu al-Abbas Mohammed bin Abdullah AL-Abbasi made Al-Anbar a second capital after Kufa of the Abbasid state in 134 AH and built the palaces, where Caliphate Abu Jaafar Al-Mansour had stayed, before he built the city of Baghdad in 145 AH. Anbar is considered a land route linking the River Euphrates and the Mediterranean Sea to the Arabian Gulf, so the armies coming in and out of Iraq pass through this region which faced a number of migrations from desert, where the immigrants settled and built palaces and temples. It was one of the regions known for producing asphalt and the shipbuilding industry in ancient Iraq, and some cities still retain the old names such as the historic city of Heet.
Geographic Location and Borders:
Al-Anbar province is located in the western part of Iraq, its astronomical location is limited between latitudes (31 and 35) in the north and longitude (39 and 44) ​​to the east.
Area:
The area of Al-​​Anbar province is (138 579) km 2 and constitutes (32%) of the total area of ​​Iraq so it is consider as the largest province in Iraq.


The Topographic and terrain:
The terrain of the province represent part of the western plateau and Al- Jazeera Desert, which is an extension of the plateau of the Arabian Peninsula, and the surface is generally undulating and is showing some small hills and number of valleys, the most important are; Horan, Mihimmdi , Jibab and Almaenai and those are subjected to heavy erosion due to the decline of their lands, which their heights vary, ranging from (250- 300 m) near Euphrates, while the western plateau is rising up to more than (800 m) above sea level at Anza Mount on the Jordanian borders, Euphrates enters Al-Anbar province at Qaim city near the Iraqi –Syrian borders, within the western plateau characterized by abundant limestone and gypsum rocks, the river length within the province is (370) km.
Province climate is a desert one since it is located with in the western plateau which is characterized with scarcity of rainfall ,high temperature, different between night and day, low humidity where temperatures of the province in summer for months of June , July and August reached (30.31, 32) ° C respectively. As in winter temperature on the province during December, January and February reached (9, 10.9)° C at a monthly rate . The prevailing winds in the province are northwest which whose maximum speed is (21) m / sec.
The province population is more than (1300000) persons according to ration centre on 2006, they are distributed over the province administrative units; districts (Ramadi, which represents the province center in addition to Fallujah, Heet, Rutba, Haditha ,Ana, Rawa, Qaim) as well as several villages.
Climate
It is Characterized by semi-desert climate, lack of rainfall and the great disparity between day and night temperatures and low humidity. The temperature rises in summer to 52° C, and falls in winter up to 9° C. The winds are northwesterly and southwesterly and sometimes at top speed of 21m / sec. The average of rainfall in winter is 115 mm.
Agriculture
The most important crops are wheat, spring and autumn potatoes, and then barley, maize and vegetables, onion and fodders. Al-Anber province has a large number of orchards containing 2.5 million palm trees. Its agriculture depends on wells, springs and rain.
Natural Resources
Al-Anbar comprises about 53 trillion cubic feet of natural gas in addition to the many minerals such as gold, phosphates, uranium, iron, sulfur and silver.
In the eighties, huge reserves of crude oil and gas were discovered ( at Akkas field) in the Western desert, southern Qaim city, on 2001, a new oil area was discovered at Al- Anbar desert, the government, then, planed to dig out exploratory wells but later on the invasion of Iraq prevented the plan. Oil experts predict the possibility of the existence of about 300 billion barrels at Al-Anbar desert.
Therefore the US troops tried to control over Al-Anbar province along the past 5 years.
On 2008 IHF international oil corporation published a study on the discovery of a huge oil area at Al- Anbar province following survey via satellite but however this news was hidden.
Administrative Division
Al-Anbar province is divided into eight administrative regions: Qaim, Qaim, Ana, Haditha, Abu Ghraib, Heet, Ramadi, Fallujah and Rutba districts.


Cities and Population
A survey by the British Mandate authorities on April / 1920 stated that the total population of the Dulaim territory (Al -Anbar) was 250 thousand people, and Baghdad population was 250 thousand people out of the total population of Iraq which was two million inhabitants at that time, while Baghdad population nowadays reach 6 million people, and Al- Anbar population at present is believed to be the same or half of Baghdad population .
On 1999, according to Ministry of Trade statistics, Al-Anbar population was approximately 2,432,717 while according to UN estimations the population was 2,328,775 people on 2004, lastly on 2005 it was 3,460,130 people according to Iraqi government.


Whereas Encarta Encyclopedia, declared the population of Al-Anbar area that between Baghdad and Qaim city was 3.5 millions.


Al-Anbar includes many cities such as Ramadi (provincial capital), Fallujah (the largest city in the province and the largest district in Iraq), Heet, Ana, Rawa, Rutba, Qaim,Haditha, Khalidiya, Habbaniyah, Haqlaniyah and others. These cities are inhabited by many Arab tribes that came before or after the Islamic conquest, the Dulaim is the major tribe in the province.
Major Cities
1 - Ramadi (483 thousand)
2 - Fallujah (473 thousand)
3 –Al- Qaim (170 thousand )
4 - Heet (120 thousand)
5 - Haditha (100 thousand)
6 –Al-Habbaniyah (80 thousand)
7 –Al-Khalidiya
8 – Al-Waleed
9 – Al-Sajerya
10 –Al- Rutba
11 - Akashat
12 - Al-Baghdadi
13 – Al-Karabila
14 - Kubaisa
15 –Al- Nukhayb
16 – Al-Nuaimiya
17 – Al-Sichir
18 –Al- Rahhaliyah
19 – Al-Saghra
20 – Al-Juba
21 – Al-Hamiriya
22 – Al-Jazeera
23 – Al-Rumana
24 –Al- Habbariyah
25 – Al-Kasra
26 – Al-Saqlawiya (50 thousand)
27 - Al-Obeidi (32 thousand)
28 - Ana (37 thousand)
29 - Rawa (25 thousand )
30 –Al-Amiriya (70 thousand )
31 - Barwana (20 thousand )
32 – Al-Haswa(150 thousand )
33 –Al- Garma (116 thousand )
34 – Al-Haqlaniyah (30 thousand )
35 – Al-Tharthar
36 – Al-Zawia
37 –Al- Raihanah
38 – Al-Furat
39 – Al-Mahimmidi
40 - Husaybah Al- Sharqia
The Most Important Projects in the Province:
1 - Haditha Dam and hydroelectric power station.
2 – Haditha Diesel Project.
3 - Glass and Ceramics Plant.
4 - Cement Plants.
5 - Heet Thermal Station.
6 - Akkas gas exportation.
7 - Akashat oil fields exportation.